diumenge, de maig 08, 2005
Indignación selectiva
Leemos en el
New York Times
"'Great Crime' at Abu Ghraib Enrages and Inspires an Artist". En los últimos años Fernando Botero ha pintado imágenes de la violencia en Colombia, lo cual está muy bien. Nos hace ver el drama silencioso de un país sudamericano, que no recibe suficiente atención de parte de los medios. Sin embargo, éste no es el caso con Iraq, que tiene una cobertura privilegiada frente a conflictos y escenas como las de Colombia, Sudán, Bosnia, Ruanda, y muchos otros países. Boterno nos cuenta:
"These works are a result of the indignation that the violations in Iraq produced in me and the rest of the world," Mr. Botero said by telephone from his Paris studio.
Pues estas escenas, condenables como son, fueron vistas por todo el mundo. Hay
otras escenas anteriores a Abú Graib y más graves
, como las de Colombia y las de otros contextos, cometidas por soldados de otros países (no por EEUU) que no se conocen. La indignación selectiva no es indignación, es parte de una agenda política.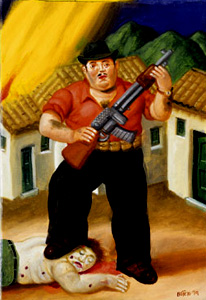 Violencia en Colombia (más aquí)
Algunos casos merecen menos indignación que otros. Abú Graib conmueve. La tortura de los soldados belgas a los somalíes, no. Se ignora.
|